Hunan Jianghai Environmental Protection Co.Ltd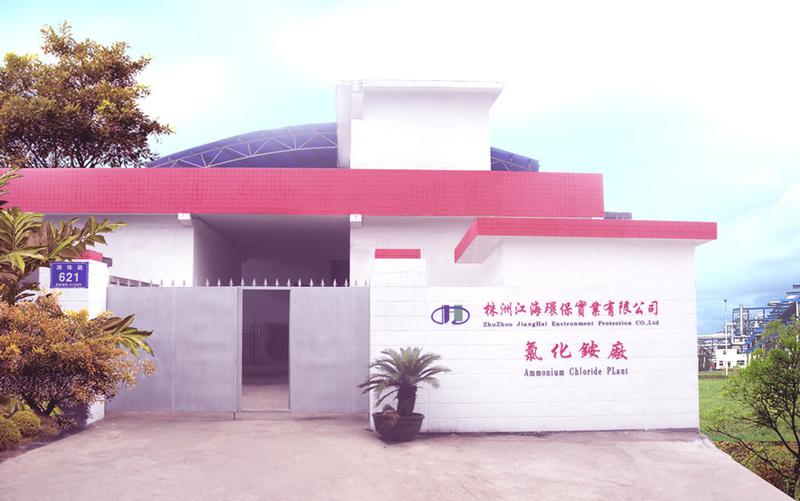 Hunan JiangHai Environmental Protection Co.Ltd was founded in Oct.2000 which is a company which produce the chemical products such as Ammonium Chloride. It's more than 200 workers and 20,000 square meters, and it can apply all kinds of high grade Ammonium Chloride, such as food grade, pharma grade, feed grade, battery grade, tech grade and reagent grade ammonium chloride.

Our products are exporting to more than 80 countries and regions. And the company located at the intersection between Changsha and Guangzhou sea port, we enjoy the convenient of the transportation position, with the annual production capability of ammonium chloride is 35,000 MTS.

Our company own the advanced equipments, the reliable technical guarantee, rigorous management measures and wholesome after service system. We converge the technical research, development, production, the technical consult service with one part, and insist the customer-first policy. We forge our own trademark with the first- level quality and service. We will sincerely corporate with our old or new customers and build our better tomorrow.

Our mission is to grow our company not only economically, but also in capabilities and contributions to our customers and the community.We will do this by building and maintaining a positive environment of teamwork and openness, not only within JiangHai, but also with our many customers, suppliers, business and community partners. We will foster an atmosphere of change, innovation, friendliness, helpfulness and support. By doing this, we will secure our economic future, pride in our work and greatness in our lives.
Hunan Jianghai environmental Protection Co., LTD, Surrounding the scientific belief in environmental protection, energy saving, resources comprehensive utilization, has established the best route by relying on science and technology and has built a high, pure, special as our development direction. Our high purity ammonium chloride mainly includes : the analysis of ammonium chloride, ammonium chloride pharma grade, ammonium chloride food grade ,ammonium chloride feed grade, ammonium chloride electronic grade, ammonium chloride battery grade and refined type of ammonium chloride. We have get the food hygiene license, United States Kosher certification and a series of quality certification, also we pass through SGS third party, and other multiple inspection by provincial and municipal inspection organizations. Jianghai brand ammonium chloride was named the famous brand of Hunan province.

Different using for ammonium chloride, the requirement of the performance of the ammonium chloride is also very different. Jianghai develop battery grade, low Ka and Na, complete dissolving type, refined grade and other special ammonium chloride according to different industries, to meet the needs of customers of different industries

Looking back at the company's development, we never shake our belief though we face a lot of difficulties; we never sacrifice customers' interest though small profit always appears; we never stop innovating though we achieve a lot so far. Accumulate, then we make it ! We're proud to contributing in the orderly development of Ammonium Chloride field from industrial grade to food grade, reagent grade & sound food safety system. The choice of Jianghai , the choice of trustworthiness, the choice of prime product, and choice of kind service.

Jianghai continuously develop by 22 years, from a school-run factories funded by the world bank's interest-free loan, now developing into a high-tech enterprises integrating science, industry and trade. The constant pursuit of the technology is the company's strong driving force.

Based on technological innovation and ammonium chloride in-depth study of crystal morphology, Jianghai has skillfully mastered the production of each link and laid a good technical foundation for the final customized production .

Customized production, just as its name implies, is to produce in accordance with the customer demand, to meet the individual needs of customers. Due to the personalized needs of various industries for ammonium chloride, also coupled with the little demand of customers, so Jianghai humble work on each link in management, supply, production and distribution, to adapt to this kind of change for small batch, various styles, various specifications and various varieties of production and sales.

Through unceasingly customer feedback and improvement, now Jianghai has formed a complete set of mature customized production process, from packaging, inner index, distribution and technology selection to constantly enrich the customer choice. The choice of Jianghai is the choice to assured.. Jianghai wholeheartedly provides the high-quality service for the customers and also provides relevant technical support involving matters of ammonium chloride, to let customers use surely and safely.

Hunan Jianghai Environmental Protection Co., LTD is specialized in a series of high purity ammonium chloride, water treatment agent, no corrosive electrolyte, zinc oxide series products. We can provide all aspects of technical guidance and services and have brought a group of experienced technicians, and integrated inherent technology, talent advantage, focusing on high purity ammonium chloride, water treatment agent, no corrosion electrolyte and so on as the key projects, and carrying on the in-depth research and development to product.

We always focuse on improving the quality of the products, and have a strong R&D team. The research and development center is dominated by senior experts, senior researchers returned from abroad are the main force and the young skilled technicians are used as reserve force, to compose a project and product engineer team and guide product research; At the same time, the company has extensively cooperated with parties at home and abroad who committed to building the technology level of domestic high purity and ultra pure ammonium chloride.

The company sets scientific research, ammonium chloride plant, water treatment agent plant, smelting factory and marketing company. It has 36 professional and technical personnel, including 9 senior technicians, 16 intermediate technical personnels .It has successfully assisted hundreds of domestic enterprises to use our products to solve the high cost, poor efficiency, post-processing technology bottleneck. We truly achieve the purpose to make the customer save heart, rest assured and comfort.

ISO 9001:9001 quality management system certificate
Jianghai Trademark Registration Certificate
Hunan disease control and prevention center
Hunan famous trademark in 2012
ISO14000-2004 environmental management system certificate
Feed additives production license
High-tech Enterprise certificate
Ammonium Chloride Tech-grade test report
Food Hygiene License
Hunan Product Standards Implementation Certificate
Ammonium Chloride Feed additive I type Test Report
Hunan Credible & Contract Units Certificate
Credible & Contract Units
Integrity of Private Enterprise